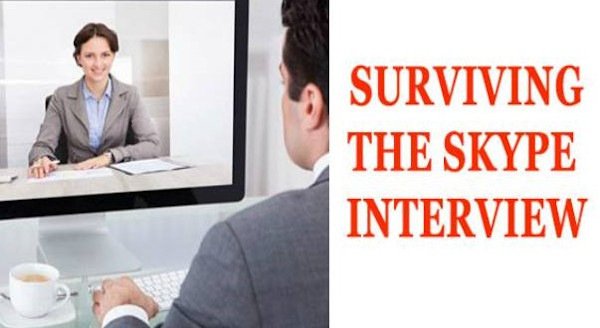 11 January 2020
Interviews via Skype or video conferencing are becoming more and more common. At Compusearch we notice a tremendous growth in this type of interviews. Hiring managers are often abroad and It speeds up the recruitment process. It is important to enter into such a discussion well prepared and with confidence.
Conducting Skype interviews efficiently, however, requires the necessary preparation. After all, candidates who leave a good impression on the interviewer have more chance to be chosen for the next round.
Dress for success
Dress in the same way as for a 'normal' job interview. This allows you to position yourself correctly and to avoid embarrassing situations if you have to move or get up halfway through the conversation. Dark colours always work well. You should avoid overly busy designs. High gloss lipstick and bling jewellery can also distract.
Make eye contact with the interviewer
Look straight into the camera and not at your own face on the screen. This way you look interested and it looks like you are looking straight into the eyes of your conversation partner. Try to sit upright as much as possible, but if you bend something forward to the camera, more eye contact is possible and your conversation partner can better see your facial expression.
Ensure that the conversation is set properly
A professional setting is very important to make your story stand out well. Your home office is a better location than your kitchen.
If you do not have a professional setting at your disposal, provide a conversation room without distraction that looks business-like, with a plain or neutral background. Check the incidence of light before the interview to prevent any shadow from falling on you and make sure that your complexion looks good in the light.
Take technical issues into account
Ask your conversation partner to repeat the question if the connection is poor or if there are other malfunctions or noise. If the problem persists, report it and reconnect so that you do not miss any important information. Pay attention to how quickly you speak and how your voice sounds, so that you also notice when communication is delayed. By occasionally agreeing to 'hum' or to say 'yes', you let your conversation partner know that you understand him / her well. Test your equipment well in advance and also just before the start of the interview.
Finish the conversation well
Just like with a 'normal' job interview, you must summarize your most important points at the end of the interview and thank your discussion partner for his or her time. Also confirm any subsequent steps.
Other things to watch out for
Your user name - what is the first impression when the interviewer connects? Do you present yourself as a professional? Dark_Thunder of Golflover_15 are to be avoided.
Body language - do not sit too far away from the camera and make sure that your upper arms are visible. Also make sure that there is some space above your head so that your body language comes across well to your conversation partner.
Interruptions - let the people around you know that you have a job interview so that you are not disturbed. Your 12 year old son or your dog running in the background can be charming but does not leave a professional impression.
Documents - make sure you have a printed version of your resume and any other required documents at hand. Keep your e-mail open in case you need to exchange documents with your conversation partner.
Headphones - is more reliable than speakers and produces less noise. Do not use those big eye-catching headphones, so that your conversation partner cannot be distract